The temple is the biggest of the temples in Mayiladuthurai. Sprawling for more than 300 thousand square feet and the main tower with the height of 164 feet, the temple awes us even before we enter and get to know about the deities. There are so many interesting stories surround this temple which is not surprising because this is one of the oldest temples in the holy land of Tamilnadu.
There is an interesting story behind this temple. Daksha, the father of Parvathy starts a yagna without inviting the Lord. Even when the lord banished Parvathy from visiting the yagna, Devi visits in hope to convince her father to invite her husband. But when Daksha insults Lord in front of Parvathy, her fury knew no bound and brought lot of destruction. A peacock, which was so afraid of the repercussions seek refuge with Devi. That is how the temple got the name.
Interesting thing is, Devi didn't want the body that her father gave him because he insulted her husband. She takes the form of peacock and serves the temple. How long can a husband stay away from his wife? The lord takes peacock form too and dances with full glory. This is called Mayura Thandavam. The male deity of the temple is known as Mayuranathar.
There are three praharams in the temple. The temple also has separate temples for Vinayagar and Murugan with both his Devis. In the outer praharam, facing east is the Mayuranathar in the form of Lingam. There is also an intricate copper peacock statue which represents the peacock which seek refuge from Devi.
When we gross the temple tower and inner praharam, we can see Suriya Chandra planets, Samyacharyar, Sapthamadhar and Sixty three Saivite devotees. If we look at west direction there are Somaskandar, Mahalakshmi and Natarajar having separate temples for them. The Navagrahas are placed in east.
The Abayambigai Sanctorum will leave people spellbound. People who are spiritual will connect immediately with the deity as the Devi is known to give refuge from all the doubts and fears we have in mind. The pretty and reassuring face of the Devi will not let us take our eyes away from her. The smile reassures that she is with us all the time.
There is Siva Linga at the southern part of Abyambigai Sanctorum which is decorated with a Sari. A lady is said to have dissolved herself after serving Devi and Lord for so long. The temple tank is called Rishaba Theertham. It is very special to have a dip in this tank during Tamil month of Aipasi. It is said to have the same effect of taking a dip in holy river Ganges.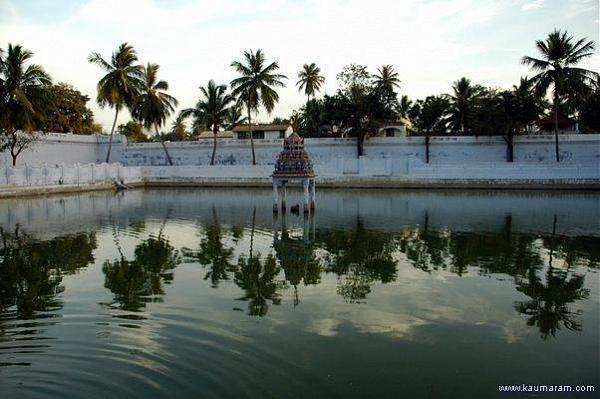 Mayiladuthurai is very close from both our resorts in Thirukadaiyur and also in Vaitheeswaran Koil. After a pleasant stay, you can very well cover the temple during the day and come back to the resort.