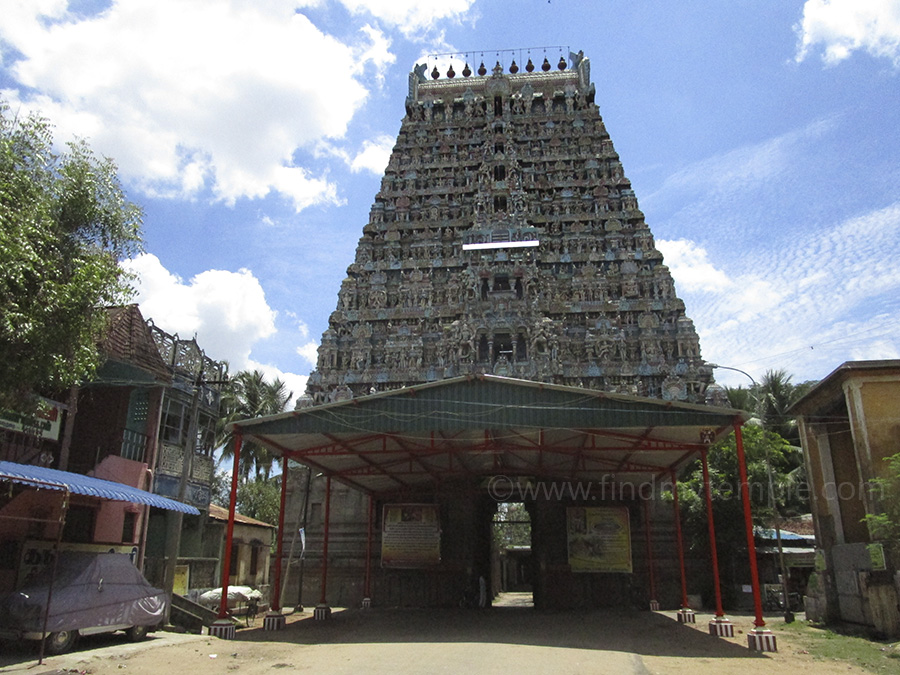 Significances:
One of the 276 Thevara Padal Petra Sthalams
One of the six temples on the banks of Cauvery which are considered equivalent to Kasi.
It is considered that Ganga, Yamuna and Saraswathi come here every year during the month of Iyppasi (Thula month) and take bath here. The "tula snanam" is highly popular.
Main Deity: Swayambu linga known as Mayuranadhar with Abhayambkai ammai.
Legend:
Dakshayani (Parvathi devi) attended her father Daksha's Yagnam (The Thiruppariyalur Veerattanam where the Daksha yagnam is believed to have been performed is about 10 kms from here) without an invitation and without obeying Shiva's words to only get humiliated there. So Shiva asked her to take birth as peacock and penance here for the entire month of Iyppasi to reunite with Him. Later Shiva also took a peacock form, performed the Gowri Tandavam and united with Her. Hence the name Mayiladuthurai (Mayil in tamil means peacock). There are only two temples where Parvathi took the form of peacock and worshipped Shiva, the other one being Mylapore.
Also, all the devas who attended Dhaksha yagam worshipped Shiva here and got liberated from their sins.
It is considered that the place of Mayuram itself was created by Lord Brahmma who worshipped Lord Shiva here.
One of the six temples on the banks of Cauvery which are considered equivalent to Kasi. Ganga, Yamuna and Saraswathi became sinful and very ugly since people take bath in these rivers to wash off their sins. So, as per the advise of Kannuva muni, they all came to Mayuram during the Iyppasi month, took bath at the Cauvery and got their sins cleared off and got back their beauty. So it is considered very sacred to take bath at Cauvery here during the month of Iyppasi. Especially, the last day of Iyppasi, called "Kadaimugam" is considered the most sacred day to take bath here and get moksha.
A couple by name Nathasama and Anavidhyambihai came here to take bath during the "Kadaimugam" but by the time they arrived here it was too late. So they were very upset and prayed to Lord Shiva. The Lord appeared in their dream and said He will extend the sacred period to the next day and asked them to take bath before the sunrise. So the first day of Karthigai month before sunrise is called "Mudavan Muzhukku" and is considered as holy as "Kadaimugam".
The Temple:
This is a vast temple with five praharams including the car streets and has many gopurams. The east facing rajagopuram has 9 tiers. Natarajar in the koshtam with Juradhevar near his foot is a rare appearance. Siva Chandikeswarar and Dejas Chandikeswarar are both present in the same shrine. Ashta lakshmis are present in the praharam. Mahavishnu is present in a separate shrine doing pooja to a lingam.
The entire temple excepting Murugar shrine is being maintained Thiruvavaduthurai Adheenam and the Murugar shrine is being maintained by Dharmapuram Adheenam. Arunagirinadhar sang Thirupugazh on this Murugar.
Sambandhar & Navakkuarasar sang hymns on Shiva.
Theertham: Rishaba theertham and Brahmma theertham.
Sthala vriksham: Mango tree